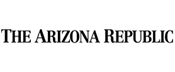 This is an awesome deal! You can get Wednesday and Sunday for $1.50 per week. Just the Sunday paper alone retails for $2.00.
Now some people might now know that you actually want Wednesday AND Sunday. Wednesdays paper has all the Grocery store ad's in it. So it should have Frys, Albertsons, Bashas, Safeway, and Fresh and Easy. So you can look through each ad and decide where you want to go grocery shopping. All grocery ads start on a Wednesday and end on a Tuesday. And of course you want Sunday because of the coupons and the other Drug store ads, like Walgreens and CVS.
I recomend not signing up for this weekend paper, usually Holiday weekends do not have inserts (coupons) in them. So chose next weekend to start.
Click
Here-Newspaper Deal!
I also recomend signing up for the 52 weeks, so you can get this deal for as long as possible. Now AZ Republic are sneaky guys and when your contract is up they'll keep sending you papers and then just charge you. So when next year rolls along, you get a renewal notice, don't just ignore it, call and cancel it, so they won't set you up on auto renew. I'm speaking from experience. Also if you do a shorter amount of time (than 52 weeks), you are then expired (whenever that comes), and see another discount, you must wait 30 days between subscriptions to apply again. So lame! That's why I think you should do it for 52 weeks. Yes you must pay up front, but it will save you money, energy, and time in the long run.
If you would rather call in your order, call 602.444.4444 and refer to the code JYFSI