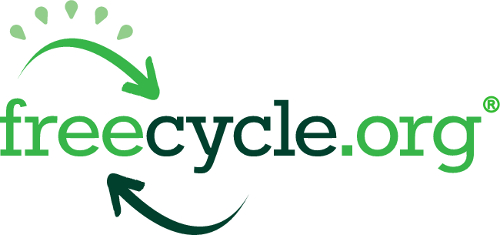 Freecycle.org
is basically like the "free" and "wanted" section of Craigslist, except this is through your city. I LOVE this site and have been a member for years. Now if you no longer need something, you can post it up there, some people will respond, you choose whom to receive and schedule a time to pick up. Now I personally never choose someone who tries to tell me some sob story, nor the person who replies with an automated response sounding one. Always make it a little personal, some people really do have automated responses.
Do not just keep asking for items, also offer items. Anything that you think someone else might be like oh I could use that, list it. I once put a TV box on there, got many responses. The woman I chose worked at a preschool and they were building a castle with it. See normally, I would have cut that puppy up and put it in the recycle. But someone else used it! I saved it from the Recycle, or in some peoples case, the trash.
So you can sign up for your city, state, and either have them email you all of the offers/wants, or other options. In my city there isn't too many posts, so I am signed up for their emails. Good luck and Happy FreeCycling!